Breathtaking Fraser River Venues for Weddings and Other Celebrations
---
Nature has always fascinated and attracted people, especially at the most important moments of their lives, such as weddings. The Fraser River is no exception. Today it is one of the most popular tourist destinations and venues for various celebrations. The river itself, the valley and its tributaries of unprecedented beauty inspire, give strength and remain in everyone's memory forever.
Here we have collected the most popular venues for wedding ceremonies and other events. You and your guests will remember these views for the rest of your life.
Fraser River Lodge: Where Luxury Meets Nature
It is a unique place where a person can enjoy wild nature, living in comfortable forest houses. Hidden away from the bustle of the city, right on the mighty Fraser River banks, the resort is located just an hour from the city of Vancouver. Believe us, this place will conquer everyone with the beauty of its embankments and the mountain range breathtaking views.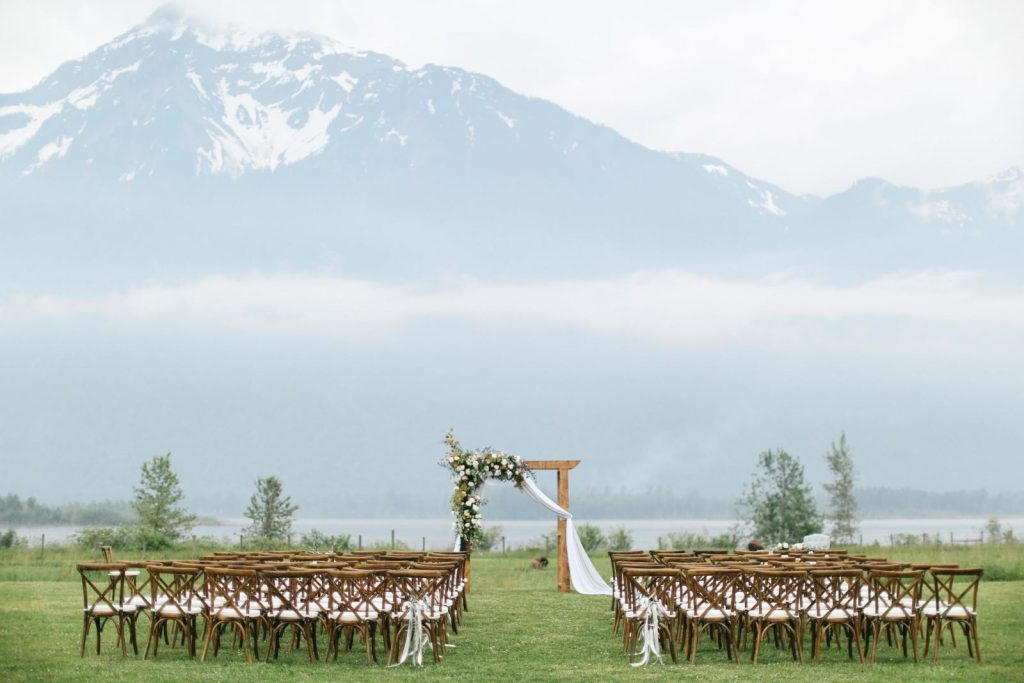 Wedding of Your Dream
On the resort's territory, there is an 18-acre hotel, which is an ideal place for wedding ceremonies. Here you will find four different locations for celebrations with a capacity of 2 to 200 guests. In addition to decorations and menus, the resort also offers a honeymoon suite and guest accommodation. Fraser River Lodge is the perfect location for a wedding photo shoot on almost every corner. There is hardly anything else that can compare with these stunning views.
Other Activities
Additionally to the venue for weddings and other events, you can relax and spend time doing what you like here. The resort offers visitors fishing trips with a professional guide, trap shooting, golf, yoga, and hiking – the choice of activities and adventures will surprise you.
How to get there: https://www.google.ca/maps/place/Fraser+River+Lodge/@49.2276763,-121.738083,17z
For more details, visit Fraserriverlodge.com.
American Creek Lodge: a View You Will Remember Forever
It is a great place for relaxation and entertainment. The resort is located in a mesmerizing valley near the Fraser River, just an hour and a half from Vancouver. This modern cottage complex on the mountaintop is an ideal place for family celebrations, weddings, corporate parties, and just relaxing on the weekends. In addition to all the amenities and cozy rooms, the resort offers a venue for large events with a capacity of up to 120 people.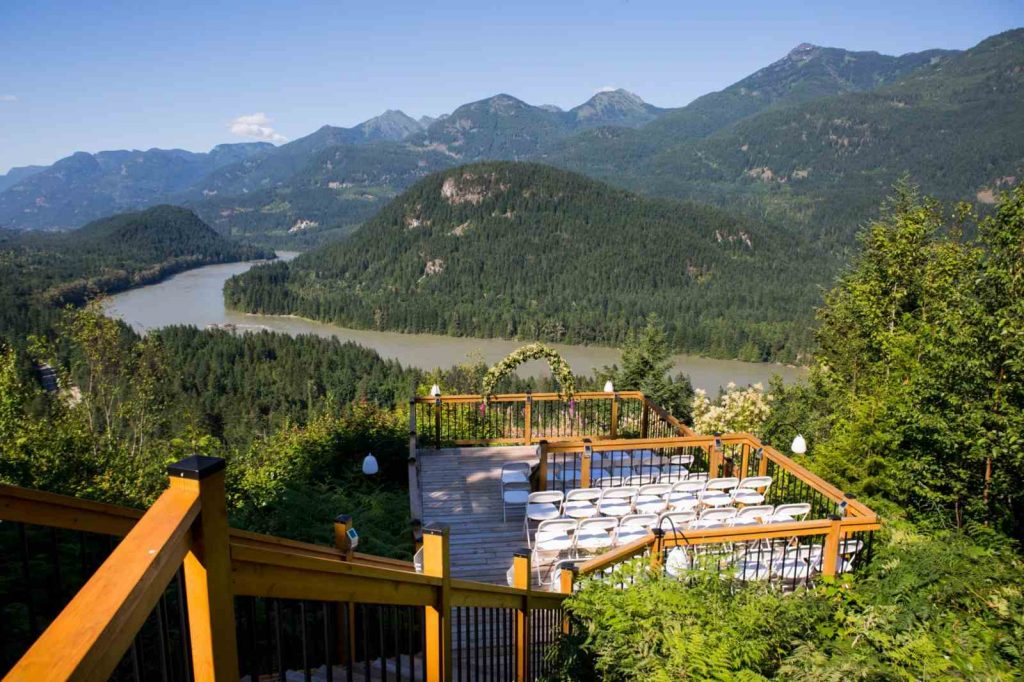 Wedding at American Creek Lodge
A wedding ceremony on a three-level deck with a breathtaking view of the mighty Fraser River and an equally beautiful mountain range in the background will stick in the memory of the newlyweds and all guests. By paying for the full package, clients get everything they need for a dream wedding: a venue for up to 120 people, a photo session with a magnificent view, a couple's room and accommodation for up to 14 guests, and much more.
How to get there: https://www.google.ca/maps/place/American+Creek+Lodge/@49.4207203,-121.4402261,17z/
For more details, visit Americancreeklodge.com.
Sandpiper Resort: From Golf to Weddings
Just an hour and a half drive from the same Vancouver and you find yourself in a fairy tale – the Sandpiper resort near a tributary of the Fraser River. You will find a luxurious golf course, a Gatsby-style hotel and a luxury restaurant here. Visitors have access to classic wooden cottages with all amenities and breathtaking views. The surrounding scenery makes the Sandpiper golf course one of the most scenic in the province, and the grounds and a restaurant are often used as wedding venues. Additionally to sporting events and celebrations, the resort, surrounded by beautiful wild nature, offers a range of services, including campfire and leisure activities.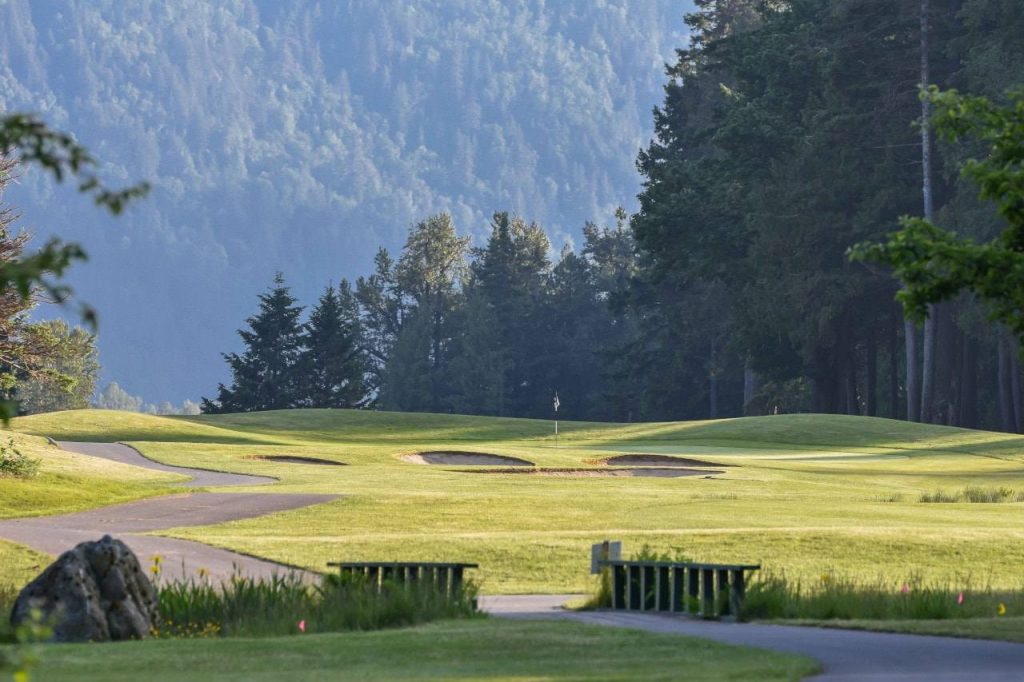 ---
Wedding in Rowena's Inn on the River
The boutique hotel, with an area of ​​160 acres, is located on the banks of the river and has unique architecture and elements of ancient decor. The English-style mansion perfectly combines the majesty of the mountains and the perennial coniferous forest. From this location, you have a picturesque view of the calm Harrison River banks, a tributary of the Fraser River.
The Gatsby-inspired architecture, beautiful and manicured gardens and inspiring natural surroundings create the perfect setting for an unforgettable wedding ceremony. A hotel with an exquisite and deep history in the heart of the wilderness of British Columbia will be the best location for any wedding photo shoot.
---
Other Activities
Additionally to corporate events and other celebrations, tournaments and golf competitions are regularly held on the resort's territory. Surrounded by perennial forests and other enchanting landscapes, this course is a real pleasure for all who play golf and just watch the game.
How to get there: https://www.google.ca/maps/place/Rowena's+Inn+on+the+River/@49.2554246,-121.9468982,17z/
For more details, visit Sandpiperresort.ca.